by Tony Attwood
There are crises, and there are crises.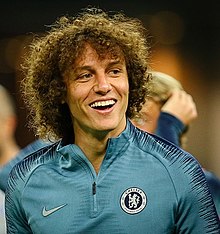 Most crises in football are simply ignored by the media refusing to talk about them, and instead making up transfer stories that never happen.  The long running crisis in English Premier League refereeing is kept hidden in this way.  The crisis that is the FA with its enormous array of scandals and corruption cases are ignored.
And indeed while even the extraordinarily crises ridden Fifa won't touch English referees, so the English media goes on its merry way thinking that if anyone complains about a referee, it is simply because that person doesn't like a decision made against their club.
Mind you, even Mark Clattenburg, who knows a thing or three about the PGMO, feels that David Luiz' red card was wrong, since the foul Luiz committed was an accidental foul.  Which means a penalty is given, but only a yellow card, not a red card.
The argument is simply that the player was not intending to foul the player and that is part of the requirement for a sending off.  (Interestingly on BT Sprout it was denied that intent plays is part of the rules – absolute nonsense.  Intent has always been part of the rules, and the referee has to make a judgement.  Simple rule: it if is said on BT Sprout, they are probably making it up).
So there's a talking point, as is the piece in the Daily Mirror (of whom it has so often been said of late) where the question is asked, "What did the Gunners miss out on?"
Now if you substitute the word "what" for "who" in order to get some sort of accurate English grammar, and then look at the answer of "No-one," and we conclude that this is quite extraordinary.
Not just because it is in the Mirror, but because the Mirror owns Football London, which churns out an anti-Arsenal transfer story every two hours.  It is rather as if the Anti-Arsenal-Arsenal's own home page has said, "That transfer window was ok."  Here's what they say in fact…
"To sign Martin Odegaard was potentially good business, a signing from Real Madrid on loan with much to prove and a real hunger.   They have also shipped out good young talents like Ainsley Maitland-Niles and Joe Willock. That is good for their development.  On the face of it, a really positive window."
Still negativity is always there ready to slap us around the face.  This is the Guardian on the Arsenal WSL team…
"Arsenal complete our list of transfer window losers. The return of the defender Anna Patten from the University of North Carolina is welcome for them and they have a strong squad on paper, but with the injury record of Joe Montemurro's team in recent years and the side fourth, it is disappointing for the fans to have not seen more movement."
So, we have a strong squad, Anna Patten is returning, but because we have had injuries in the past this is a disappointment.
But really that is pretty feeble, and if you really want a crisis, you have to look beyond most of the English papers – although fair play to the Guardian which does cover this tale….  Knocking Arsenal maybe what they do with their eyes closed but they do have the French crisis: football without crowds.
That's not hard to imagine of course because that's exactly what we have.
But now imagine English Premier League football with no crowds and no TV, so there was no income from Sky, the Sprout and Amazon.  What then?
Well, then, no income.  At all.  And this is what has happened in France.  The Spanish company Mediapro had agreed to pay the Ligue 1 clubs €3.25bn over four seasons.  They also secured the rights for Ligue 2.  However they argued that the pandemic had changed the terms of the contract.  Canal Plus which also held some rights agreed, and they pulled out of the deal.  
So since then the French League with no crowds and no TV offered the rights again and three companies put in bids, but none met the reserve price.
Mediapro has since paid €100m to the League to cancel the rights, but it seems no one wants to carry on.  Canal Plus and BeIN Sports did not bid for the rights this time around.  It seems that if no TV deal can be arranged in the next couple of days the French League will be cancelled.  Which will mean a bit of a problem for all-conquering PSG, not to mention a lot of players who currently play in the League and whose salaries won't be paid.
Chaos in Europe; silence in England