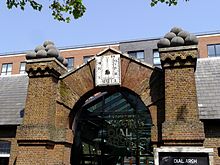 In trouble from top to bottom: chaotic Arsenal are failing in all areas screams the headline in the guardian by Nick Ames.   
Nick Ames in case you don't know about him is what we call a Super Spreader – he takes a particular vision of football and plasters the written media with it constantly, making it seem as if his rampant negativistic anti-Arsenalism is common currency.  Which to a degree it is – showing how successful these super spreaders are.
His work has appeared not only the Guardian but also on, MSN, MSN India, Daily Mail, The Independent, Time Magazine, Yahoo India, ESPN, ESPN Radio, Yahoo Sport UK, Yahoo Sports and more and more.   And it is incessant – always pouring out, always the same.
Consider this tweet, "If you think Arteta's the problem, what about Edu? If it's Edu, does Vinai get off? What about the players? And does any of this matter while the Kroenkes are in situ? The problem with pointing fingers around Arsenal is that there are so many targets."
So when he says, "Embarrassing night for Arsenal and a huge personal setback for Arteta, too. But no sympathy whatsoever for the long-term architects of Arsenal's decline," one might think that really a professional journalist should not be so slip-shod as to copy the common parlance of using the word "embarrassing" to mean "bad" but really "architects of Arsenal's decline"???  As if someone designed the decline!?   If I were ever tempted to misuse "embarrassing" (which I am not) it would be to describe some of this writing.
But let's leave the muck rakers to wallow and look instead at the world the football journalists don't want to know about: reality.
So here we have a club that has the fourth best defence in the league, better than Tottenham, Liverpool, Leicester, Everton and most of the other clubs that the writers rave over.
Yes Arsenal are in trouble, but not from top to bottom.  It is the Arsenal attack that is in trouble, but that is also where two of the brightest young men in football in this country are starting to make a difference.  Indeed add Martinelli to Smith Rowe and Saka (as I would) and we have three.   And judging by his recent form, when totting up the contribution to come from today's youngsters across the team, I'd say we could add Joe Willock to that (assuming we don't sell him to Newcastle).
But Ames knows nothing of this (nor presumably of the success of Arsenal's defence this season).  "Arsenal have been condemned to a year in the shadows" he says, omitting that this is as Chelsea, Liverpool, Manchester United and Tottenham have been before us, by dropping out of Europe for a season.   "A project whose credibility is teetering on the edge" we are told, making me (if no one else) wonder why such language was not used about the collapse of those other clubs for a year or so in the recent past – or in Tottenham's case, six consecutive years.
But no, this is Arsenal, so it is put the boot in constantly, even when the boot doesn't fit.  And Arsenal are not in trouble from top to bottom, because the defence is doing fine.
And despite the wild ravings of a man who doesn't seem to know that a team does indeed include defenders, the Arsenal v West Bromwich Albion game most certainly goes ahead.  And for this game I thought I'd extend our usual table which compares the two sides according to where the game is being played.
The top two rows do the normal comparison – in this case Arsenal at home this season and West Brom away this season.  The difference is double the number of points for Arsenal, although sadly we have only scored one more goal at home than they have away (hence emphasising the real problem).
But then two more rows are added to take in the previous two seasons…
| Pos | Team | P | W | D | L | F | A | GD | Pts |
| --- | --- | --- | --- | --- | --- | --- | --- | --- | --- |
| 9 | Arsenal Home 2020/1 | 17 | 6 | 4 | 7 | 19 | 20 | -1 | 22 |
| 19 | West Brom away | 17 | 2 | 5 | 10 | 18 | 31 | -13 | 11 |
| 8 | Arsenal home 2019/20 | 17 | 8 | 6 | 3 | 31 | 21 | 10 | 30 |
| 3 | Arsenal home 2018/19 | 17 | 14 | 2 | 1 | 39 | 12 | 27 | 44 |
The last two rows show our position after 17 home games in 2019/20 and in 2018/19 and this reveals exactly where the problem lies.
We know (even though most of the rest of the world tries to deny it – again multiple articles on this site) that the home/away balance is totally different this year from previous years.   But for Arsenal that difference has gone to a mega level, if there were to be such a thing.   The difference between this season's home form and that of two years ago – which is to say before the pandemic – is beyond belief.
Six wins this season, against 14 in 2018/19 at this stage.  22 points this season at home – double that at home two seasons ago.  We need to get that sorted.
More anon…
What Arsenal need to fix