by Chips Dinero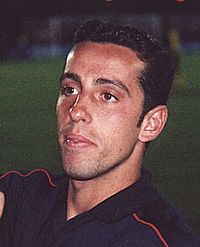 There's a very curious thing in the papers at the moment.  Journalists (and their coat-tail bloggers) are calling for Arsenal to buy more and more players.  But at the same time they are telling us that so many of the players Arsenal have bought in the past have lost value because the wrong men have been bought.
Which suggests that they are saying, "take a process that has failed, and do it again."  Supposedly the first sign of madness.
In fact all player purchases are huge gambles.   Players who are shining at the age of 18 can be in League Two by 22, players who drift around the lower leagues can suddenly be seen to have great qualities…
The point is there are so many factors involved.  Raw talent is obviously one, but so is a willingness to train, to do what the manager says, temperament, injuries, illness, homesickness, uncontrolled personal habits (drinking, gambling) and personality (aggressiveness, timidity…)
All of these and many more affect how the player develops.   Which is why some transfers never happen: the manager doesn't like the player's psychological issues.
That process of checking the player out is a major part of why it can take so long from the first rumour announcement to the player being transferred.  The selling club anxiously tries to cover up anything that might stop the deal, while the buying club has an army of people searching for the negatives.
That does not mean that clubs don't buy players with personal problems or a love of the high life.  Everyone has problems (although many don't ever admit to them).  The club just has to decide how damaging they might be.  Cantona, you might recall, had a few issues…
So the search is always for the brilliant player whose personal issues, whatever they are, are controllable.  Nic Bendtner is an example; his desire for the high life and his impetuosity was always been well known, and was part of the price that was paid for having the player on the books.
All of which is why each of the large clubs employs an army of psychologists to watch the players and the prospects and provide advice on where problems might lie.   And it explains why clubs like to keep such issues secret, so as not to affect the value of the player when he is sold.
Of course journalists take none of this into account unless they are doing a piece highlighting the outrageous personal life of a player.  Meanwhile players employ their own people to deal with the journalists and head them off with fake stories.  For if the word gets out, the player's value declines.
Meanwhile the journalists create their tales which generally run
The players we have bought have lost value because Arsenal have bought the wrong players

By playing for Arsenal who did so badly last season the players have lost even more value
Yet every club has players who lose value – especially at the moment.  So many clubs are in such dire financial straits that the value of players generally is tumbling.  But that's too complex a tale for the average football journalist.
Now because of the pandemic, the situation is worse.  We can expect Manchester City, Chelsea and PSG to buy as always because the pandemic doesn't affect those with the greatest wealth.  But look at Barcelona, and the top Italian clubs – and undoubtedly many more.  They are in real trouble and this reduces the value of players, because value is simply what a club will pay.
And of course we never know the value of a player until he is sold.  Football Observatory had Bukayo Saka as worth £100m in earlier this year.  Transfermrkt had him at half that. 
But for what it is worth here are the market values of our players as estimated this week by Transfermarkt
| Player | Age | Contract ends | Value 2021 | Value 2020 |
| --- | --- | --- | --- | --- |
| Saka | 19 | June 30, 2024 | €65m | €20m |
| Partey | 28 | June 30, 2025 | €40m | €50m |
| Pepe | 26 | June 30, 2024 | €35m | €52m |
| Tierney | 24 | June 30, 2024 | €32m | €20m |
| Lacazette | 30 | June 30, 2022 | €28m | €48m |
| Ceballos | 24 | June 30, 2021 | €27m | €32m |
| Aubameyang | 32 | June 30, 2023 | €25m | €56m |
| Bellerin | 26 | June 30, 2023 | €25m | €32m |
| Gabriel | 23 | June 30, 2025 | €25m | €28m |
| Leno | 29 | June 30, 2023 | €22m | €28m |
| Xhaka | 28 | June 30, 2023 | €22m | €24m |
| Martinelli | 20 | June 30, 2024 | €22m | €25m |
| Holding | 25 | June 30, 2024 | €18m | €9.5m |
| Smith Rowe | 20 | June 30, 2023 | €18m | €2,7m |
| Nketiah | 22 | June 30, 2022 | €16m | €11m |
| Willock | 21 | June 30, 2023 | €16m | €16m |
| Chambers | 26 | June 30, 2022 | €12m | €14.5m |
| Elneny | 28 | June 30, 2022 | €10m | €5m |
So we have six players whose values have increased – and of course we can always argue about the details of some others.  I would say Willock's value has increased dramatically because of the loan to Newcastle, and Chambers has gone up considerably, because he has overcome his injury problems and played consistently in what was the third best defence in the Premier League last season.
But to me the main thing to remember is that declining values are, at the moment, everywhere.
Arsenal's new future – the plans are revealed