By Sir Hardly Anyone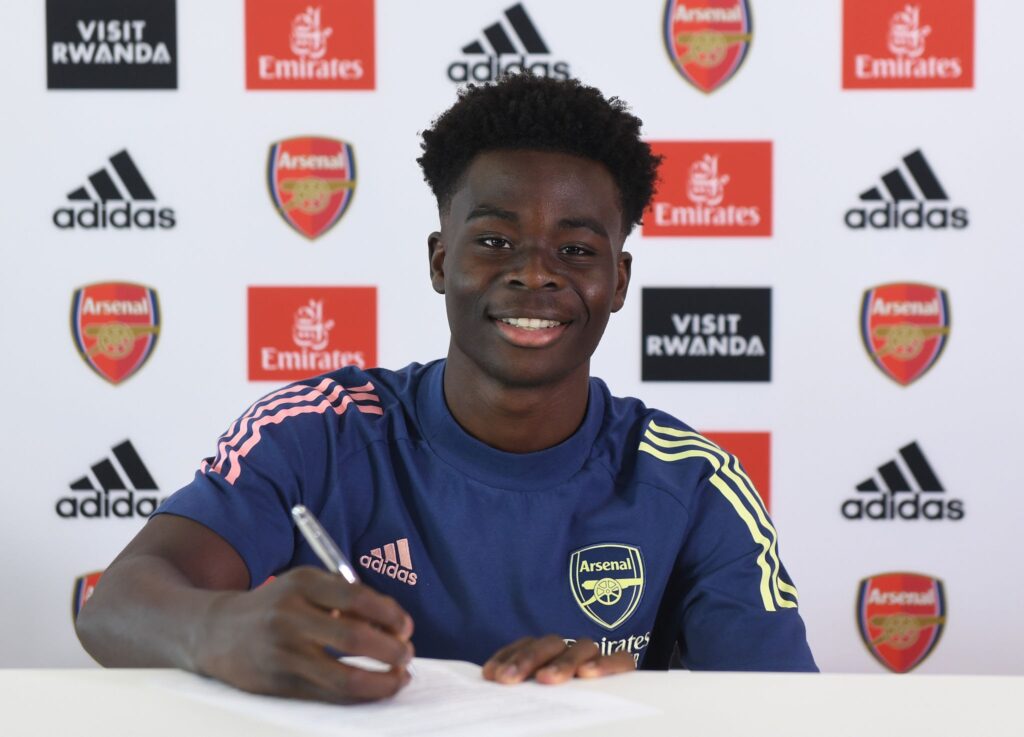 "Bukayo Saka could be set for a shock Arsenal exit this summer as the Gunners frantically look to raise transfer funds. Arsenal manager Mikel Arteta will be forced to consider selling the academy graduate if the club fail to qualify for next season's edition of the Champions League."
Now that story appeared on 4 Apr 2021, on Eurosport's web site.  On 7 June 21 we had "Arsenal could be forced to sell Bukayo Saka due to pandemic" – that was on Football Transfers.  So failure to qualify for the Champs, and lack of money due to pandemic.  Two reasons why we are selling.
On the same day, that bunch of scalawags known as Football.London (owned by the Daily Mirror) ran the story that "Arsenal could have to sell their £100m star to fund Martin Odegaard transfer".  Again the centre of the tale was Saka.
PainintheArsenal ran the story too, although they went one further and said Pepe would be sold as well.  Sportsmole, the Daily Mail, the HardTackle quickly followed along with FootballDaily and the Mirror. 
Those stories eventually fizzled out, along with those that said that Arsenal had been so awful last season that the whole defence had to go, including replacing Germany's number 2 keeper with a guy who is not allowed to play because of being banned on drugs charges.
So the media moved on and while actively bypassing the fact that Arsenal were the second best team in the league through the last two thirds of the season, and dropping the notion that the club had no transfer budget and so had to sell to fund their expensive transfer habit.   
Then they went further and discovered that the owners were willing to put a quarter of a billion pounds into the transfer kitty this summer.  How they discovered this, we were not told.
That tale lasted a couple of weeks, before being dropped, but we continue to jog along with tales of buying, without the need to sell anyone.  The wholesale destruction of the defence has gone, and we are talking of buying maybe two or three players.
Unfortunately no one can agree who we are buying despite all the media claiming that they have an ear to the ground when it comes to divining the next move.   Thus far 87 players already tipped to be joining Arsenal.  which means that if things carry on at the current rate we will have another 427 players nominated to be bought by the end of the window.
Of course it won't come to that because the journalists will soon be too drunk on their own word spinning  to dream up any more nonsense.  
So what are the media up to in going through this list of …
Last season was so terrible we need to rebuild over half the team.
Arsenal are such lame ducks and in such a financial mess even our best players will be sold.
Players like Xhaka, whom the statistics from Football Observatory show was our best player last season, will be allowed to walk.
The third best defence in the league last season will be broken up.
Arsenal have a quarter of a billion pounds to spend….
…But we won't talk about that.
But there are now over 90 players we are in for (there have been four more since we last published our table of players the club is buying.
Do football journalists know anything?
The only viable conclusion is that they don't.  They do no research themselves, and some research they come across is considered too complex for football fans, which shows the contempt with which we are held by the blogs and the mass media.
But Football.London is committed to publishing over 20 such wacky tales a day.  Thus what they said yesterday is ignored on the grounds that their readers are imbeciles who can't remember one day to the next.
Yet they are still good at fantasies.  The article Arsenal only did well after Xmas because the fixtures were much easier  deals with that one of these bits of nonsense and shows what gibberish it is.
The media bank on the notion that no one is going to check their fantasy tales, and that the average Arsenal supporter has the memory span of a goldfish.
We are, as ever, being treated with utter contempt, but sadly most publications seem happy to go along with the contempt if it gives them a way of knocking Arsenal while writing articles without any sense of truth.
Transforming the truth about Arsenal and football