By Bulldog Drummond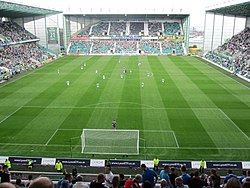 Well it seems like only six weeks ago that we were talking about Arsenal's glorious run-in at the end of the season.  Two draws and two defeats with eight wins in the last 12 games in both competitions.  Not forgetting five Premier League wins all in a row to round the season off.
As we know the media won't touch this story, preferring to continue with the transfer nonsense and talking about a dismal season.
And there are interesting stylistic changes around. Just Arsenal for example has a story which opens with the headline "Arsenal correspondent confirms around 30 players to travel for Scotland summer camp" which then opens the story with "Charles Watts has claimed that around 30 players are making the trip to Scotland" – which is not the same thing at all.   A trivial example I know, but typical of what we are getting hour after hour.
But anyway we can step aside from all this because tomorrow (13 July) we have the first match of the season, available free of charge on Arsenal TV to everyone who has shown her or his support by being a member of Arsenal.  A good move, I'd agree.
As far as the Arsenal History Society files shows Arsenal have played Hibernian of Scotland three times and Hibernian of Malta once.  The latter is of course irrelevant for this occasion but I do like to show I've done my homework.
The first match was on April 1926 as part of the transfer arrangements in which Scotland international goalkeeper Willie Harper moved to North London.  It was also the game in which John Mackie played his last game for Arsenal after 119 league and cup appearances.  The result was Arsenal 5 Hibernian 0. 
The second game was on 22 October 1952 as Arsenal won 7-1.  Roper scored five and Lishman the other two.  It was one of three friendlies played by Arsenal in the 1952/3 season.   According to Ollier the crowd was an amazing 55,001.
The team is recorded as
Kelsey

Wade

Forbes

Smith

Daniel

Mercer

Milton

Logie

Goring

Roper (5)

Lishman (2)
Dan Roper played virtually every game of the season and scored 14 goals.  Lishman was the leading scorer of the season with 22 goals from 39 league games.
So why was it on TV, and why was the crowd so big?  Although Arsenal won the league this year, that was as much to do with a five match run unbeaten in April as anything, and by the time this game was played Arsenal had played 12 and won only five.
On the other hand Highbury was packing the crowds in at this time.  Arsenal played three games in October 1952 – and all three were at home.  The crowds were
4 October: Arsenal 3 Blackpool 1.  66,682

11 October: Arsenal 2 Sheffield W 2.  55,678

25 October: Arsenal 3 Newcastle 0.  63,744.
Hibernian were also a strong team at the time, and ended the season second on goal average from Rangers.
But still, why was the game shown on TV, and why did so many turn out for a friendly?
I think one reason for the interest might be the novelty of football on TV – and the novelty of TV.  I don't have figures for 1953 but by 1956 only a third of homes in Britain had a TV, so I suspect the number was under a quarter in 1953.  People probably went to the game to see the TV cameras!
BBC TV's first football match was part of Arsenal against Arsenal Reserves on 16 September 1937.  The second was England against Scotland on 9 April 1938.  The FA Cup Final was shown on 30 April 1938, but my understanding was that these were shown as recordings, not live.  The first live game was in October 1946: Barnet against Wealdstone.  At the time, because the League would not license football on TV, the BBC started visiting amateur grounds in and around London and showing recordings of their matches.  The audiences apparently were quite large.
So, maybe the novelty of TV, the fact that Highbury crowds were very large at the time, and the fact that it was a floodlit match all contributed to the crowd size. The League and FA didn't like lights (on the grounds that it was new) and the first floodlit league game was not until 1956.
And here I think we get a bit of a clue to this match.  The floodlights were there but Arsenal could only use them in friendlies.  So that is what they did – they played a friendly, and people wanted to come and see the floodlights!  And the cameras!
The first Arsenal match under the lights was Arsenal 6 Hapoel Tel Aviv 1 on 19 September 1951 – 44,385 turned up.  This was followed by Arsenal 3 Rangers 2 on 17 October 1951 with 62,012 in the crowd.
The third and final match was in March 1955 at Hibs' ground, which ended 2-2.
As for the game against Hibs of Malta that took place on 20 May 1969, and was a goalless draw, the second of two post-season games in Malta.
More on the upcoming game will follow as we pick up our normal pre-match service.  Just like old times really.
The video collection series