By Tony Attwood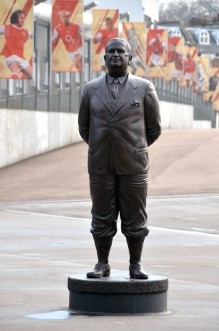 When Arsenal started winning League titles and FA Cups in the 1930s they broke the hegemony of the clubs of the West Midlands and the north who had won most of the trophies until that point.  Arsenal's reward was to be named by the media the "Bank of England" club, and football was reported to be broken, because now a club with money could buy their way to success.  (If you have a few days to spare, the complete story of the era is told in Arsenal in the 30s)
In fact all of Arsenal's money came from the crowds that packed the ground.  But despite this success based on income, the notion that football is suddenly changing and is now broken has continued ever since, and we see it at the moment with comments about how Manchester City and Chelsea in England can spend what they like, seemingly without anyone being able to reign in their expenditure.  
"How modern football is broken beyond repair" which appeared in the Independent is typical of such pieces.  It suggests that money buys anything and everything and that if a club has a dip, well there will always be fluctuations.  "The wider trends are beyond debate," the article says.
Except that there is one element in the whole negative scheme of things that is not being debated at all: human ingenuity.  Or in common football parlance: "tactics".
A prime sign that money couldn't automatically buy titles came when Venky's Ltd took over Blackburn Rovers, announced an imminent return to the top of the Premier League and rhetorically asked "how hard can it be?"
This coming season they will celebrate ten years outside the Premier League, including one in League One.  Last season they were 15th in the Championship.
Yet they won the Premier League back in 1995, just as Leicester did in 2016, and what links the clubs is not only the unexpected nature of their triumph but that it came just a couple of seasons after winning promotion from the second tier.
This sort of activity shows that while many will complain that other clubs spend more than Arsenal other factors can still come into play.  Mr Wenger won titles by finding players that no one else knew about.  Now every league is filmed and analysed and everyone is searching for hidden gems, so football has moved on once more and found something else.   Not something new, but an idea that Chapman used back in the 1920s.  Different tactics.
You may have heard the tale that Herbert Chapman transformed Arsenal by taking the standard 2 3 5 formation of the day  and changing it by taking the centre half (the middle man of the "3") and playing him between the two full backs to make it 3 2 5.   It's an easy to understand story, although it raises the question as to why other clubs didn't do the same.
But sadly the story isn't true.  Many clubs were playing three at the back by the time Chapman came to Arsenal.  Chapman's transformation was to have the centre half release the ball at once to a deep lying midfielder who in turn could pass accurately upfield to a winger who would immediately be able to pass to an attacking midfielder or the centre forward.
The fact that it is hard to find the right players who can do that explains why it took Chapman five years to build his all-conquering team that could win trophies, and why he tendered his resignation to the board along the way.  Fortunately the board told Chapman to stay, and he created a dynasty that gave us five league wins and two FA Cups in nine seasons.
Tactics have never gone away of course, and it is eternally true that tactics are built around players' abilities, but the focus of discussion has always been on transfers and individual ability.  Indeed sometimes specific tactics are decried.  The chant "Boring Boring Arsenal" arose from George Graham's tactical change, which transformed the team of 1991/2 which scored 81 league goals into the team of 1992/3 which scored just 40 goals.  Ian Wright was still there, and indeed he moved up from 26 goals in 1991/2 to 30 in 1992/3, but everyone else seemed to be playing in defence.  It was 11 years before we got 80+ goals in the league in one season again.
Yet generally people like to talk about players, rather than about tactics – so being "Untold" we go where others don't .
Our latest venture into this area started with "How a club can commit the most fouls, but get the fewest yellow cards" published on 6 February 2020 and it contained the data abbreviated below (the full table showing the data for the top ten clubs in the league is in the original article, via the link above).
This table just shows positions – that is Leicester tackled more than any other club in the PL, but were 19th in the yellow card table.   The last two columns are ratios – how many tackles a club puts in to have a tackle called a foul and how many fouls are committed before the ref shows a yellow card.
| Lge Pos | Team | Tackles pos | Fouls pos | Yellow pos | Tackle/ Fouls | Fouls/ Yellows |
| --- | --- | --- | --- | --- | --- | --- |
| 3 | Leicester City | 1 | 16 | 19 | 2.08 | 9.48 |
| 10 | Arsenal | 13 | 10 | 1 | 1.61 | 4.32 |
Arsenal were committing far fewer tackles than Leicester, but getting more fouls against, and many more yellow cards than Leicester.   We were getting a yellow card for just over ever four fouls.  They could commit more than twice as many fouls before getting a yellow card!
This was an Untold original piece of research – but few people have mentioned it.  It is as if the information that we were getting yellow cards twice as often from fouls as Leicester was either of no consequence or too sensitive to mention.  Indeed Arsenal got five red cards that season, and Leicester got none, and that wasn't noticed either.
So we published, and thought that was the end.  But then within a few weeks of publishing, Leicester started getting penalised for fouls at Arsenal's level!  They even got a few more yellow cards although by the end of the season they still only had 41 yellow cards, compared to Arsenal's 86. Coincidence of course.
That was 2019/20, as I have said.  In 2020/21, Arsenal got 47 yellow cards and Leicester 61.
The fascinating question is: what changed?  We can see why Arsenal would change – those yellows were crippling the team.  But why would Leicester change when they were getting away with industrial levels of fouling?
So both Chapman's 1930s revolution, and Arteta's 2021 revolution come from tactics.  But neither became a matter for much public debate.  Which is why Untold does the numbers.  And even if others sneer or find them boring, I still think they give us an insight into what happened last season to take us from 15th across the first third of the season, to second if we measure the last two thirds of the season.
Looking forward: 2021/22