By Tony Attwood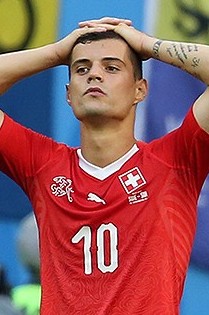 Such is the state of the media, it is getting hard to find many Arsenal players who have been with the club for a while who are considered worthy of driving the lawnmower to cut the grass on the pitch, let alone turn out for the team.
Leno is considered an absolute disaster (despite being Germany's number two keeper in the Euros, and being the keeper in the third best Premier League defence last season).
Rob Holding is always on the list of players to be "shipped out" with occasional mentions of the fact that he was a £3m transfer from Bolton.  Calum Chambers is injured too much, Sead Kolasinac is simply a disaster, Maitland-Niles is a forgotten leftover, Mo Elneny is always expected to leave no matter how he performs on the pitch, Pepe a ludicrously expensive failure, Nketiah simply not up to it.
But most of the aprobriam is reserved for Xhaka.  
We've tried to add a sense of realism as with articles such as How 8 Arsenal players swept to the top 20 table in Europe this month in which we quoted the Football Observatory monthly figures which showed player rankings for games played at big-5 league level over four different time periods.   But prejudice, it seems, always wins through.
And this was so even when we showed where Arsenal players were positioned, in relation to the whole of Europe.
1.

 

Nicolas Pépé: 94.8% 

2.

 

Granit Xhaka: 93.7% 

7. 

Martin Ödegaard: 

92.3%

10.  

Mohamed Elneny: 91.0% 

13. Gabriel Martinelli  

90.0% 

13. 

Bernd Leno.  90.0% 

18.

Gabriel Magalhães  89.2%

31.

 

Calum Chambers  

87.6%

32.

 

Rob Holding 

87.5% 

32.

Emile Smith-Rowe 87.5%

35.

 

Thomas Partey  

87.4% 
But of course it wasn't mentioned in England because it suggests the Arsenal management know what they are doing – and that is not acceptable journalism these days.
Now Granit Xhaka has covid although because he is deemed useless by the English media no one cares much.  But in Switzerland it is a different matter.   Because Xhaka is the hero of his adopted country.
As the right wing Swiss newspaper Blick puts it, "If Switzerland achieved a historic journey to the Euros, it owes much of that to Granit Xhaka.   He was admired not just for his performances on the pitch but also his ability to mobilize his troops, to take them to a higher level that allowed them to achieve the impossible and eliminate France."
But after a negative rapid flow test, his PCR test was positive and now the story has emerged that he was the only member of the Swiss squad who was neither vaccinated nor immune after contracting the disease.
The Swiss coach Murat Yakin, was very reasonable about the issue saying, "We can only give recommendations and respect everyone's choices." 
So the point was put to him that Xhaka should be leading by example… to which the manager very reasonably replied, "Yes, but a captain remains a human being."
In short they acknowledged that the timing might be a disaster but his decision is a personal choice in a country where freedom of choice is valued.
The question of vaccination is a major topic in Switzerland, and only 52% of the adult population has received a jab.   The Swiss Football Association is officially telling all its 300,000 members across 1,400 clubs to have the vaccine, but it remains a matter of choice – just as vaccinating children in the UK against a variety of diseases, is a matter of parental choice. 
So it can be argued that Xhaka made a selfish decision which put his beliefs ahead of the team and inevitably Xhaka is starting to receive some of the opprobrium that he gets on a daily basis in England.  And undoubtedly at some stage those who want Xhaka out of the Arsenal team, along with other players who ranked so highly at the end of last season, will join in the calls for him to go.
But there is another side – and I write this as a person who was vaccinated on the first day I could get each of the jabs.  Rightly or wrongly the UK, like Switzerland, is a country where beliefs are recognised and acknowledged.  
I never hide the fact that I am an atheist and I personally find religious beliefs no different from fairy stories.  But if people want to believe them, fine.  I won't interfere with their beliefs, as long as they let me have mine.  If Xhaka wants to believe that he is better off not having the vaccine than having it, ok, that's his choice.  I think it's bonkers, but people having bonkers beliefs is part of the price we pay for democracy.
I'd sooner people have beliefs that I think are ludicrous, than all of us be told "this is what you have to believe, and anyone who doesn't will be marched away."  I think everyone knows where that leads. 
Gaslighting: how refereeing in the Premier League is manipulated, and why the media never speak about it.