by Tony Attwood
Germany is discovering it is true.  Games without fans change everything.  Before the ghost games came along Germany's top division saw 43% of the games end with a home win. 22% were drawn and 35% were away wins.
So far since the ghosts came along that has been 22% home wins, 28% draws, and 50% away wins.
Of course we know why the media in England won't touch this statistic with a barge pole – just as they won't touch the level of refereeing errors or the way the crowds affect refereeing judgment.  It does not fit the agenda.
Oh, and just in case any of my regular correspondents write in to demand a source for my figures – here's a graphic of the type that is now commonplace in the European media – although you won't see it even in translation in the English media.  Green is with fans, orange is without.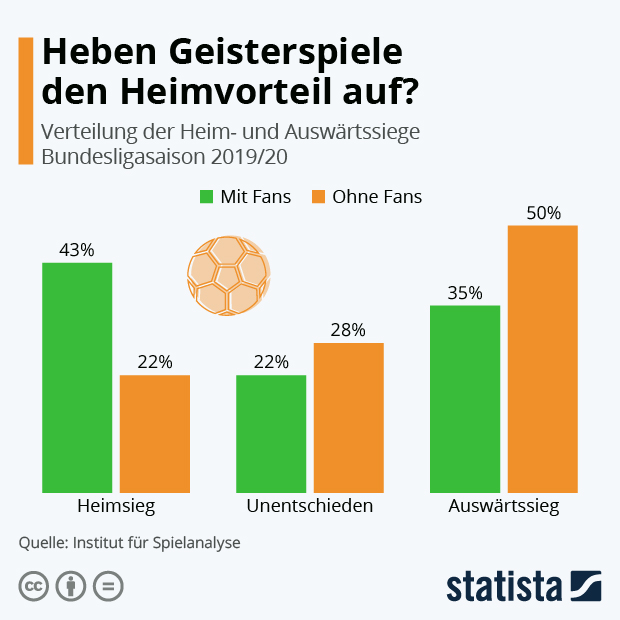 Institut für Spielanalyse is the Institute for Game Analysis
So what is going on when a story this huge is not at the heart of football debate?
The Guardian today is leading with "The successful conclusion of the latest video conference on Thursday morning can be taken as confirmation that all immediate hurdles to the Premier League's return have been cleared. The interim boardroom wrangle phase has now entered its final act. Although not without a significant degree of narrative tension along the way."
Not exactly a fact laden piece.
The Telegraph goes with
"Timo Werner has agreed to join Chelsea and the club are on the brink of tying up a deal to sign the forward from RB Leipzig.   The German international is expected to become Chelsea's second signing of the summer transfer window, following Hakim Ziyech, despite the suspension of the Premier League due to the coronavirus crisis."
The Mail runs with "Frank Lampard fumed at Chelsea's lack of action in January but big-money deals for Hakim Ziyech and Timo Werner have more than plugged the gap since.. their £53m move for RB Leipzig star is shrewd and he could even be the man to replace Eden Hazard."
The Metro leads with five separate transfer tales.    The Evening Standard has a similar approach, "How Manchester United will react to Chelsea's late move for Werner," plus "How will Chelsea line-up with Timo Werner? Three options for Lampard" and "Latest pictures: Kane, Son, Bergwijn and Tottenham stars in training"
OK so maybe Untold has got it wrong.  Maybe transfer stories are more important or more interesting than the home/away revelation, and maybe Tottenham's additional borrowing is not of significance.  But it does look to me rather like an attempt to direct attention away from other issues.
In terms of Arsenal news we have FoLo running "Atletico Madrid have long coveted Lacazette. Arsenal want Thomas Partey."
Mind you there is always the occasional laugh, as with the Football Fan Base that says "the Gunners have constantly been selling their star players at crucial interjections which, in turn, has forced the side to move down the league table each and every season."
Well, not quite each and every.  The last four completed seasons have seen Arsenal 2nd, 5th, 6th 5th.  Not quite down the league table each and every season.
Instead of any discussion of whether the games are being refereed properly, these headlines came in one after another this morning…
Italian giants still pursuing summer deal for 29-year-old Arsenal star 

Footy Extras

PSG enter the battle to sign 26-year-old Arsenal transfer target 

liga-financial.de

Chelsea transfer plans after Timo Werner move could spell bad news for Arsenal 

Mirror

'We have a problem': Sky pundit says player Wenger signed has'not been good enough' 

RedLondon.net
But allow me, if I may, to suggest one interesting outcome that we could see in the coming weeks.
Let's imagine that the pattern of refereeing does not change in the Premier League as we start the ghost games.  What will that mean?
The answer would seem to be either
a) The PGMO have recognized the danger of their bias being spotted and so told referees to do everything they can to support the home team and maintain the statistics in order to avoid having journalists put down their drinks for a moment and ask what on earth is going on.
b) There is something fundamentally different between English and German football which no one has quite spotted yet.