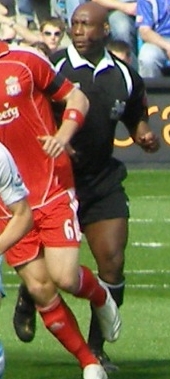 By Tony Attwood
When I say "so few" in the headline above, I have to admit I am not sure if there are any non-white referees or assistants working in the Premier League.  Maybe that speaks to my lack of observational powers, or maybe I have just come to accept the fact that footballers come from different ethnicities but referees and assistants don't.
And indeed it took a comment on this site from Menace about the lack of non-white officials, to bring the matter home to me.
So I looked the matter up and found this comment: "It is 11 years since Uriah Rennie took charge of his last Premier League game before retiring and there has been no BAME referee in England's top flight since. Not one of 72 referees on the 2018-19 National List — from where all League referees are drawn — was black or Asian."
The Football Association has recently made all the noises one would expect about working with the government and social media to wipe out racist abuse.  Yet it was only three months ago that the FA chairman and Fifa vice president Greg Clarke was forced to resign after making a series of unacceptable statements in talking to a UK parliamentary committee about diversity issues.
So while the Football Association endlessly vows to work with government and social media platforms to get rid of racist abuse it is hard to believe that they are fit to do so, if the Premier League can't find a single non-white referee.
But let's consider racism for a moment – and I take up this point following a comment by Menace.   In the UK's population as a whole something around 11% of the people are from BAME communities.
In the Premier League there are 19 active referees and 22 assistant referees, making a total of 41 officials. If they represented the national community then maybe four of those would be from the BAME communities, but none are.
This becomes something of an issue given that around 35% of Arsenal's first team squad are from BAME communities.   So to be representative of the community as a whole there should be four or five non-white referees and assistant referees at the very least.
Of course people should have their job on merit, but also we do have a racism and discrimination problem and at all levels of our society, from senior staff being sacked for using inappropriate language through to a lack of equality in PGMO.  As such the football world is just making matters worse for itself.
Thus the FA might say, "We are united with all of football in our abhorrence of any racist abuse. This is not acceptable in any part of society. We will continue to work with the rest of the game, the government and social media platforms to remove this – and all elements of – discrimination from our sport," but the history of the FA as a failing organisation, and the history of PGMO as a secretive all-white organisation does not give us any confidence in its ability to do anything at all.
The problem is of course the highly secretive PGMO, in running refereeing in the Premier League,  always considers itself a world apart and they carry the media with them, for one never hears nor sees the media ever wanting to criticise PGMO.  Indeed so successful is PGMO in managing its secrecy that the media barely recognises the existence of the ultra secretive group which ultimately determines how football is played in the Premier League.
An article in the Sunday Times 18 months ago suggested that the issue is referee assessors, "most being white, older and apparently biased."
But PGMO is all-powerful; they can do whatever they want since no one controls their activities.  So their failure to address this issue of a balance in its membership, is however no surprise in that they have failed to deal even with the issue of the geographic imbalance of their staff, something that one might have thought would be even simpler to deal with.
But it is also the failure of the British media to consider the secrecy and workings of PGMO that is part of the problem, and the media must share much of the blame with PGMO for the current state of affairs.  Only when issues relating to PGMO are discussed by the media, rather than being left to a handful of blogs such as Untold Arsenal, are we likely to see any progress.
I'm sorry we've not addressed this before: after all I pride myself that Untold is a campaigning blog.  But now it has come up, let's see if we can't get the media to take up the point.  They won't ever acknowledge us of course, but that's neither here nor there.  If we can get them to note the PGMO's apparently racist approach to refereeing, maybe something might be changed.