By Sir Hardly Anyone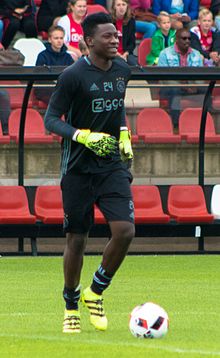 The Daily Cannon's bleak headline, "Arsenal still haven't submitted formal bid for Andre Onana," certainly suggests Arsenal are not taking this transfer window seriously.
And they are not alone, for that headline reflects a similar one 24 hours earlier from "Pain in the Arsenal" who wrote "Arsenal risk Andre Onana transfer blow with rival interest."   So we are told, again by the Pain, "Arsenal will have to act fast if they are to secure the signing of Andre Onana this summer transfer window with the results of his appeal against a 12-month doping ban making rival clubs across Europe firm up their interest."
But hang on, is someone else actually bidding for him?  Well no, not exactly although the Mirror (centre of everything anti-Arsenal at the moment) has run the headline "Andre Onana told to reject Arsenal transfer because he's already too good for them."    That advice came from Wesley Sneijder, unemployed of the Netherlands who says he ought to go to Barcelona or Real Mad.  
Now why would he say that?  Could it be because he got really miffed when his team Galatasaray were hammered 4-1 in Europe by Arsenal?  Possibly.  Pics of him that day show him as miserable as sin.  
But someone is feeding the story that "Arsenal, having been strongly linked with a player whom they've admired greatly and managed to get fans excited about, could be seen slipping out of their grasp."
And why is it only Arsenal who "still haven't" put in a bid?
Could it be that Arsenal are not actually interested in the player at all, but the whole thing is just being talked up by Onana's agent?
Two days previously, Pain, perhaps sounding more realistic said, "Arsenal so far have been linked with a whole squad worth of players. From Cameroonian goalkeepers to Championship wingers…,"
Yes that's true.   So when Pain says, "This summer transfer window has been filled with drama since before it even opened as Arsenal's multitude of links to players have ranged from the left-field to the concrete. Onana, despite not being allowed to kick a ball competitively for what will be nine months, falls under the 'strong' category," that is interesting, because at once we ask, "Strong? Why?"
So, let me give you a few clues about what is really going on starting with an article which appeared on the BBC website back on 6 November 2019.   The article was headed "Cameroon keeper Andre Onana open to Premier League move". 
Onana had just annoyed his employers and made himself look somewhat silly by signing a contract while saying,  "It's always important for me to move on. I am not going to stay here forever but now I am focused, so let's keep it this way." Which is not really good PR and didn't amuse his employers.
The BBC then added that, "Onana has been a target for some top European teams, with recent media reports linking him to Tottenham Hotspur and Manchester United."   But no one made a move for him.  Why?
Putting these comments together it begins to look like the young man, apart from being rather careless over which pills he takes (he claims the pills that got him banned were ones that his wife was taking and he took one by mistake) either has an active publicist or an active imagination.
Either way the fact that it is impossible to find any source for  the notion of him coming to England, earlier than the fact that he offered himself to England in 2019 in an interview he managed to get with the BBC.  So it looks more and more as if the guy has successfully talked himself up to a large number of English football websites all of whom failed to check if there was any truth in the tale about an English club interest.
Yet it took only five minutes of digging by Untold and its mass team of investigators (ie me) to locate that earlier BBC piece – a piece which puts a new light on the tale.  So let's consider…
Bernd Leno has played eight times for Germany and 330 times in the top leagues in Germany and England.   He is not banned for drugs offences.
André Onana has played 142 for Ajax and 18 times for Cameroon and is banned until November.  This past season because of his ban he only played 20 first team games.  The season before he only managed 24 league games.
Personally I think that the journalists who have run this story are so keen to knock Arsenal they are willing to run anything they are given, and I also think this time they have been well and truly set up.
Of course they'll squirm out of it by saying Arsenal could have had him but have been too slow.  But the bloggers having been conned looks more likely.  Do Arsenal really want to sign a player with a drugs record?
The enemies of Arsenal and how they are trying to destroy our club