by Bulldog Drummond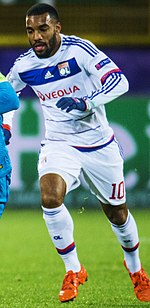 With Alexandre Lacazette having scored in each of his last three Premier League away appearances and Arsenal having an extra buoyancy we enter this match with a certain level of enthusiasm as you may have seen in our earlier little pieces…
Deadline day didn't really live up to the predictions (what a surprise), other than the obvious one where the player had already left and gone to the new club.  So…
didn't actually happen, but still, let us allow the journalists to wallow in their own false prophecies (although we are pondering whether to do an article on false prophets and what some religious followers do to such people has been set aside – at least for the moment).
But we should not think that anyone is now starting to write something positive about Arsenal.  The Guardian doesn't even have a piece on the game at all (at least not at 3.30pm when we last looked).
Elsewhere HITC, who have been running incredibly negative copy day after day since the start of the season keep going as concerning Nelson they say
"Arsenal apparently were demanding that any interested club paid half of Nelson's wages, alongside a considerable loan fee.
"The youngster's failure to secure a move looks a blow for his own development now."
And of course they are not the only ones telling us it all went horribly wrong because of Arsenal's incompetence, greed, stupidity, laziness etc etc.    Sport Witness have Arsenal making a "late call" to sign Barcelona for player – La Liga giants would have accepted… "  But Arsenal were too slow.  It was ever thus – nothing about 99% of predictions of who we were signing being utterly and totally wrong.
And so it goes on.  Still, let us consider a team or two.
HITC are confident as usual and give us
Leno;
Bellerin, Holding, Gabriel, Cedric;
Partey, Xhaka;
Pepe, Smith Rowe, Martinelli;
Lacazette
It is a measure of our success that many of these choices are now becoming quite obvious and expected.  Interesting too that after years of bitching and moaning no one has a word to say against Holding who has been doing sterling work at the back.  £3m he cost us – not a bad deal.
Just Arsenal give us
Leno
Bellerin  Holding  Luiz  Cedric
Partey  Xhaka
Pepe  Smith Rowe  Aubameyang
Lacazette
Yes that looks familiar but still it is disappointing however that most publications are not even bothering to do a preview of this match, let alone give a suggested team.  I can't find anything at all on the Guardian website.
The Standard has its confirmed team news
Leno;
Bellerin, Holding, Luiz, Cedric;
Partey, Xhaka;
Pepe, Smith Rowe, Martinelli;
Lacazette
and ok I am going to stop at this point because just about everyone who has been bothered to put up a prediction has come out with the same team.
Which I suppose is good in one way because it means that we are not scratching around trying to find people to play and desperate to find a new combination.
But I must say, that attacking midfield of Pepe, Smith Rowe and Martinelli must be one of the youngest if not the youngest we have ever put out in a League game.
A win, lads, come on, we really do expect a win.