By Tony Attwood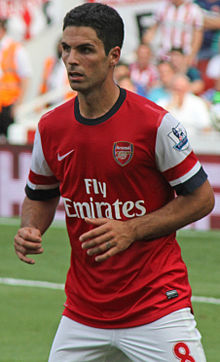 JustArsenal.com have an article which talks about last season and summarises it as "Absolutely horrible; eighth place finish; no european competition. I guess that's about it. But what caused it and how do we solve it?"
Now if you are a regular reader here you'll know that not only do we disagree, rather than set out a series of personal viewpoints, we've dealt with data.  Second best team in the league over the last two thirds of the season augers well for next season.  Third best defence in the league across  the whole season.  And the most outrageous tactical change since Herbert Chapman's manoeuvres in 1925.  The stats as a result of this are extraordinary, and we've published them repeatedly on this site.
This JustArsenal article, like most this summer, doesn't mention these events.  Instead they say, 
Our players ain't playing football… For the last 5 years or so, we've seen our players working hard, but not playing hard. 
"When you watch an Arsenal game, how many skill moves do you see? How much fancy control do you see? How many cheeky nutmegs do you see? From last season, I think I can only remember like two nutmegs, both from Xhaka, a few times Pepe and Auba threw step overs, nothing more really."
Now that is interesting because the writer does tell us the type of play that he is looking for, and in one sentence asks, "Do you mean to tell me Willian could do [various tactical plays] at Chelsea, but now that he joined Arsenal he's forgotten how to do them? You mean to tell me Saka can't do some fancy feet just for the sake of it? That needs to change."
Interesting, because he's completely missed the most outrageous phenomenal change that went on through last year, a change so amazing that it turned round the results from Xmas Day on.  And yet he demands his own changes.  We don't know whether his changes will work or not, but we do know that Mr Arteta's changes did.  We don't know why he doesn't want more of Arteta's changes; he just ignores them.
Also there's no account taken of how long it takes to transform styles and approaches so that the whole team knows what is going on.   We know in 2020/1 it took a third of the season, and then it clicked into place beautifully.  How long would this self-expression football take to get going well enough to produce results?
Our players are too modest.
"Both in defence and attack, our players are too nice. There's no aloofness, no arrogance. I'm not talking about pride. I'm talking about arrogance. The air of invincibility. The look of being untouchable."
Now I'm not going to go through all the detailed articles again, because they are all on this site, but here is the simple set of facts.
In 2019/20 Arsenal not only got more yellow cards than anyone else, they got massively more.  More than twice as many as Leicester.  And yet this despite having only three teams tackle less than Arsenal.  Which is important because tackles are the prime source of yellow cards.
In part this meant that we could not break up attacks and launch counters, because quite often (more than for most teams) every time we tried to do this, we gave away a free kick to the opposition.
But far, far worse, we were ceaselessly punished by referees with yellow cards, which disrupted the team.  A player on a yellow takes fewer risks, is less likely to tackle, is more likely to back off.
So what Mr Arteta did (and what Just Arsenal seems to have missed or deliberately ignored) is that for 2020/1 Arsenal cut their tackling by almost a quarter.  This reduced their fouls by around a fifth. These tactics cut their yellow cards almost in half.  We moved from being the most yellow carded club (by far) down to 17th most carded club.   We kept players on the pitch playing their normal game, not afraid to tackle for fear of dismissal, but instead playing a different game.
| Tackles 2019/20 | Tackles 2020/21 | Change | Fouls 2019/20 | Fouls 2020/21 | Change | Yellow 2019/20 | Yellow 2020/21 | Change |
| --- | --- | --- | --- | --- | --- | --- | --- | --- |
| 584 | 456 | -22% | 421 | 345 | -18% | 86 | 47 | -45% |
You can see at once why such a gigantic tactical change took a third of a season to get right, and if any of the writers on football were observant and fair minded they would be heaping praise on the management and every player involved.  And Arsenal started to get results which meant that for two thirds of the season we were the second best team in the league.
Now of course there are problems – but these problems can only be debated once the figures above have been looked at and considered. 
Although when the writer says, "By and large, the solutions are in the coach's hands," he is right.
The only point is that the coach has understood this and done something about it.  This is why the figures for the last two thirds of the season show us being third (second if you discount the extra game Man U squeezed in to that period after Xmas).
| P | Team | P | W | D | L | F | A | GD | Pts |
| --- | --- | --- | --- | --- | --- | --- | --- | --- | --- |
| 1 | Manchester City | 25 | 21 | 0 | 4 | 64 | 20 | 44 | 63 |
| 2 | Manchester United | 25 | 13 | 9 | 3 | 45 | 23 | 22 | 48 |
| 3 | Arsenal | 24 | 14 | 5 | 5 | 43 | 21 | 22 | 47 |
| 4 | West Ham United | 24 | 13 | 5 | 6 | 41 | 28 | 13 | 44 |
| 5 | Chelsea | 24 | 12 | 6 | 6 | 29 | 22 | 7 | 42 |
And there is a point in this.  Because Just Arsenal says what Arsenal should do is "Allow the players to play."
And I scream NO NO NO NO NO NO
That is what was happening before.   Introduce that and we'll lose all the wonderful gains of the last two thirds of last season.
Those at the top of the club know perfectly well how that mega improvement was achieved.  They also know that PGMO could set out to stop Arsenal repeating the trick in 2021/2, but I'm hoping that this constant publicity Untold is giving to what happen will remind them we are watching.
They've sneaked in the articles denying the reality of the home/away difference, because that is so embarrassing to them.   I don't want statistics deniers to allow PGMO a free shot at Arsenal by upping the yellow cards again.
And that is why I keep publishing this data over and over and over again.   Because hundreds of journalists and bloggers are ceaselessly denying reality but it is so vitally important.
How Arteta gave us a hint of what he was about to do, but we missed it.
For the last two thirds of last season, Arsenal were a top two club
The audacious tactical change that sent Arsenal charging up the league table
Figures from Football Observatory at the end of the season showing Arsenal players dominating the statistics.