Previously….
By Bulldog Drummond.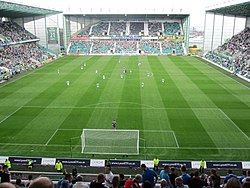 Now the first thing to know about the Easter Road Stadium (also known as The Holy Ground) where we play late this afternoon is that it is not in Easter Road but actually is at 12 Albion Place.  At least that's what I've found by looking it up, because I must admit it is one of those grounds which has not had the pleasure of my attendance.  It is of course all seater, and can hold 20,421 
So now we are starting to look at who is going to play late this afternoon (or if you prefer early evening).
Arsenal Youth tell us that Omar Rekik, an under 23 centre back, has been put into the pre-season squad and has travelled to Scotland, so could get a game, or a bit of a game.  The story is he has been capped by Tunisia already, but has suffered a long injury which has kept him out of matches for a while.
That bit of intelligence comes from Jeorge Bird, who also tells us that Omari Hutchinson receives first senior callup
Meanwhile the news is out that Folarin Balogun has been moved permanently into the first team squad and so has a number – which is 26.  So I guess he'll be in line for a few league cup games – and this of course is where we miss the Europa League which was so good for helping players find their form.  He has made a few first team appearances but has mostly played for the under 23s getting 22 goals in 49 games.  With the under 21s it was apparently 38 goals in 41 games, so he's clearly slipping a bit.
Some of the regular sites have got themselves together to give us a starting line up (although being a pre-season game the team could change totally at half time).   Here's the Daily Cannon…
Runarsson
Cedric Chambers Pablo Mari Kolasinac
Partey  Maitland Niles
Pepe Smith Rowe Nelson
Nketiah
So that gives us no Willock, Aubameyang, Holding or Reiss Nelson.  Gabriel is injured.  There has been little said about Joe Willock apart from the fact that Newcastle want to hold onto him after his goalscoring exploits last season.   I hope he comes back to us.
Elsewhere in the chitter chatter there is talk from the Edinburgh News that Nuno Tavares, and Lokonga could play.
Of those who won't play we have Torreira who played in Copa America, Xhaka who through this whole transfer window has been going to Rome but seemingly still hasn't gone (maybe because the ratings put him down as our best player.
Leno and Tierney are both available – I don't think Leno played in the Euros and Scotland were knocked out early on so they could well be with the squad.   Elneny and Holding obviously did not have any summer commitments, but we are endlessly being told they are about to leave. 
So once again I think it might be worth noting that last season (and that is across  the whole season, not just the last two thirds) we had the third best defence in the league.  And this was the season where the entire defensive approach was transformed, to counteract the work of certain referees.
The Edinburgh News tells us that they expect the Arsenal squad to be…
Rúnarsson (GK), Okonkwo (GK), Hein (GK), Chambers, Mari, Kolasinac, Soares, Tavares, Rekik, Clarke, Partey, Willock, Smith Rowe, Pépé, Maitland-Niles, Nketiah, Nelson, Aubameyang, Lacazette.
And this is where we see the benefit of not having a squad packed with players who are in their country's select XI.  There have been times in the past where the opening games of the season have been played by half the reserve side because of international interruptions and unreasonable demands.
But back with the projections, Sport Mole have also chimed in with a lineup…
Runarsson;
Chambers, Pablo Mari, Holding, Cedric;
Elneny, Willock;
Aubameyang, Smith Rowe, Pepe;
Lacazette
That looks much more realistic to me.
While the Boot Room offers
Okonkwo
Bellerin Rekik Mari Tavares
Elneny Azeez
Nelson Smith Rowe  Taylor-Hart
Lacazette
So let's just have a quick peek at a few of the less known there.
Runar Alex Runarsson was subjected to death threats last season by supposed Arsenal supporters last season.
Sead Kolasinac went on loan to Schalke 04 – his old club – in the last campaign, and is now back with us.
Arthur Okonkwo is 19 and has already been with Arsenal for 10 years and has been travelling to first team games as the third keeper – the one who of course is never seen.  He has recently signed a new contract.
Omar Rekik came last season from Hertha Berlin
Nuno Tavares has just signed for us for around £6.8m
Miguel Azeez is a youth academy graduate as is Kido Taylor-Hart who is said by some to be about to sign a new contract.
How newspeak took over football and stopped proper debate